At Stanley Black & Decker we're working towards being ECOSMART™. This means that we are committed to improving the sustainability of our operations, our products, our communities, our suppliers and our customers. Moreover, it means that we are vigilant about our sustainability initiatives, and place a priority on maintaining an open dialogue with all of our stakeholders.
RECOGNITION FOR SUSTAINABILITY
Since 2010, Stanley Black & Decker has been listed on the Dow Jones Sustainability North American Index in the IEQ Machinery and Electrical Equipment category - an index that tracks the performance of the top 20% of companies, in terms of sustainability, within that category. We also achieved the highest attainable score on both the 'Climate Disclosure Leadership Index' and the 'Climate Performance Leadership Index' of the 'Carbon Disclosure Project'. 'The Carbon Disclosure Project' (CDP) works with shareholders and corporations to disclose the greenhouse gas emissions of major corporations.

ECOSMART™ IS HELPING US CREATE A PARADIGM SHIFT IN HOW WE ATTRACT, DEVELOP AND RETAIN TALENT. WE ARE INCREASING OUR ALREADY WORLD-CLASS EFFORTS TO INSTILL ENVIRONMENTAL AND SAFETY ACCOUNTABILITY IN OUR MOST-VALUED ASSET-OUR PEOPLE. WE ARE VIGILANT THAT THE HIGHEST STANDARD OF HUMAN RIGHTS ARE RESPECTED AND PROMOTED THORUGHOUT THE WHOLE SUPPLY CHAIN OF OUR PRODUCTS.
SAFETY FIRST, LAST AND EVERYWHERE IN BETWEEN
Since September 2014, Stanley Black & Decker has seen a 33% drop in the monthly average of recordable injuries, thanks to our refreshed approach to employee safety called 'Safety Always'- our ethos is "safety first, last and everywhere in between!".
Since 2010 USAG* is certified OHSAS 18001 - ensuring in its management system Health and Safety Standards are met and continuously improved.
SOCIAL ACCOUNTABILITY
Since 2008 USAG* is certified SA 8000 (Social Accountability 8000) - an internationally recognized standard which ensures products (and services) are sourced, manufactured and distributed with the highest respect of Human Rights in the workplace both internally and all throughout the supply chain. The SA 8000 standard is based upon UN ILO regulations and monitored by independent auditors, credited by SAI International.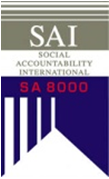 *USAG brand is managed by SWK Utensilerie s.r.l. and Stanley Black & Decker Italia s.r.l. - the latter is going through a new certification process following legal entity changes
*USAG main production site - Gemonio (VA - Italy) is OHSAS 18001 certified as well as ISO 9001 - ISO 14001 AND SA 8000.
PUTTING COMMUNITY AT THE CENTER OF OUR CULTURE
+ 19 %
TOTAL IMPACT
We increased our financial givin by 19% in 2015
+ 30 %
TOTAL EMPLOYEE IMPACT
Our employees contributed 30% more to charities around the world in 2015 than in the previous year, and nearly doubled their financial support from six year ago
$ 6 M
FOR HOUSING AND REBUILDING
Assisted 200.000 volunteer with more than $6 milion in borrowed tools value
50
HOMES
Completed home builds for more than 50 families in partnership with numerous charities, including rehabilitating houses to make them more accommodating for returning injured veterans
300 K
STEM STUDENTS
Provided STEM (Science , Technology , Engineering and Math) and Vocational programming to more than 300.000 students were provided support to participate in STEM and innovation competitions
We understand, track and continually minimize our environmental impacts. Our ECOSMART™ culture helps us identify environmentally related strategies that ensure we stay ahead of climate-related challenges and reduce the environmental impact of our operations.
ECOSMART ™ Office initiative
2015 included the launch of our ECOSMART™ Office Initiative, designed to create a sustainable eco-friendly office environment. As an ongoing effort to reduce our paper consumption and toner usage, we encourage colleagues to implement "Smart Printing Strategies" into their daily work activities.
Sustainability Performance
In 2015, we extended our ECOSMART™ philosophy to include our whole supply chain. We encourage our suppliers to advance sustainability processes that not only benefit themselves, but also those that can be passed along the entire supply chain. We undertake regular audits to identify opportunities for improvement and to help our suppliers make beneficial process improvements for energy, waste and water reductions.
USAG Italian site of Gemonio is SA 8000 Certified - hence it is monitored to ensure compliance with the UN ILO standards.
External Certifications
Together with SA 8000 (Social Accountability) and OHSAS 18001 (Safety in the work place) - USAG Italian sites of Gemonio and Monvalle* hold ISO 9001 certification to ensure the quality standards of products and process are always met as well as ISO 14001 which monitors (and continuously improve) the Environmental impact.
*Monvalle is going through a new is under re-certification process following legal entity changes.
Our goal is a 20% reduction in paper consumption annually.